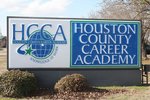 The Houston County Career Academy
Houston County Career Academy (HCCA) is located at 1311 Corder Road and is available as a part-time option to students who attend the five traditional high schools in the Houston County School System.
Mission of Houston County Career Academy (HCCA): To Ensure a Viable 21st Century Workforce for Houston County.

Academic Program

Houston County Career Academy is an extension of the programs of high schools in Houston County and is an off-campus center of Central Georgia Technical College. HCCA has a focus toward integrating academics and advanced career/technical education programs. Instructional methods are biased toward "project-based" instruction and will benefit from the alignment and seamless blending of academic courses with career, technical and agricultural education (CTAE) courses, the blending of high school with the rigor and expectations of college coursework, and the relevance resulting from the blending of public education with the priorities and expectations of business and industry. HCCA is governed by the Board of Directors of the Charter School under the control and management of the Houston County Board of Education. The Directors include parents, business representatives, educational representatives and a representative from Robins Air Force Base.

Organization

The Charter School represents a cooperative partnership among local business and industry as represented by the Warner Robins and Perry Area Chambers of Commerce, Houston County Development Authority, Robins Air Force Base, Houston County Schools, and Central Georgia Technical College.

Current Central Georgia Technical College Dual Enrollment Technical CTAE offerings at HCCA:

Metals
Automotive
Aviation Maintenance Technology
Computer Systems/Information Technology
Cosmetology
Law and Justice
Culinary Arts
Industrial Maintenance
Barbering
Current CTAE offerings at HCCA:
Culinary Arts
Healthcare Science Techonology
Education: Teaching as a Profession
Engineering and Technology
Fine Furniture/Cabinetmaking
Other Offerings at HCCA:
Other Offerings at HCCA:
Work Ethic and other Soft Skills –Student's score determined by GA BEST- Business Ethics Student Training; certificates may be earned
Work-based Learning opportunity for every student
On-line Academics
Career Technical Student Organizations Offered at HCCA:
FCCLA
HOSA
Skills USA
TSA
FIRST Robotics
Admission Requirements/Process to HCCA for part-time students
The student must:
Be in grades 9-12. (Juniors will be given preference for enrollment with exception granted to seniors who have room in their schedule to complete the two semesters of A+ Certification in Computer Repair. Sophomores and freshman may enroll with preference given to sophomores.)
Commit to a pathway offered at the Career Academy.
Contact base school counselor for approval to register for a course offered at HCCA.
Complete "Career Academy Interest Survey
Counselors and CTAE supervisors at each high school can provide additional information concerning HCCA.